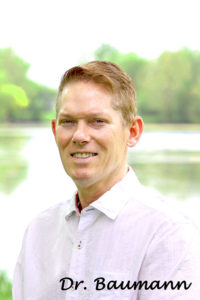 Dr. Scott Baumann returned home to Grinnell in 1996 to join his father's practice formerly known as Baumann, Agnew and Cochran. His father retired after 50 years of dentistry and the practice is now known as Dental Associates.
Dr. Scott completed his Doctor of Dental Surgery (DDS) degree at the University of Minnesota School of Dentistry. He is a graduate of Hamline University in St. Paul, MN and a Grinnell High School alumnus.
Professionally, Dr. Scott is a Master in the Academy of General Dentistry (MAGD). The Academy of General Dentistry (AGD) advocates life-long learning and offers a wide variety of continuing education courses to keep dental professionals abreast of the latest developments. This means that he has been recognized as a leader and example to other dentists in not only meeting requirements to maintain his license, but far exceeding them. He is also a member of the American Dental Association (ADA) and has taught part-time at the Family Dentistry Clinic at The University of Iowa College of Dentistry.
Dr. Scott loves spending time with his family and friends. His wife, Delphina, is the business manager of Dental Associates as well as the gift planning coordinator for the Greater Poweshiek Community Foundation. They have three children; Joel, Ian, and Chloe. He is an active member of the Grinnell United Methodist Church and is engaged in numerous professional and community organizations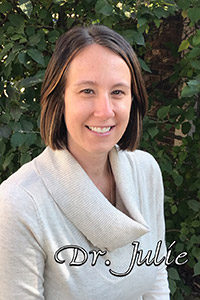 Dr. Julie Hendricks received her DDS from The University of Iowa in Iowa City. She also earned her bachelors degree from the U of I. While in dental school, she was active in clinical dental research and conducted studies pertaining to enamel erosion.  Dr. Hendricks has been a member of the Dental Associates team since 2012.
Dr. Julie is a native of Oakland, Iowa, a small farming community near Council Bluffs. Her husband, Trevor, is from the rural Marshalltown area and is currently employed as a mechanical engineer for Schneider Electric in Cedar Rapids. During her free time, Dr. Julie enjoys being with her husband, family and friends. During the summer, she and Trevor are active campers. They also enjoy jet-skiing and fishing on Lake Red Rock. Dr. Julie likes to read and bake.  She and her husband reside just west of Grinnell.  They have three boys, six year old Weston and one year old twins, Brooks and Parker.